*TRANSPORT TO HOTEL NADIA*
Transportation to hotel

From

To Station

Time min.

Costs Euro

Tram 1, 2 or 5

Central Station
Dam
5
3

Tram 13, 14, 17

Westermarkt
5
3

Bus 170, 171 or 172

Westermarkt
5
3

Taxi

Hotel
5
10

Train

Schiphol Airport
Central Station
20
5

Taxi

Hotel
20
40

Tram 4

RAI Congress
Hotel
20
3
*..TAXI SERVICE WITH PRIVATE DRIVER TO NADIA HOTEL..*
SCHIPHOL HOTEL TAXI - 40 EURO
SAFE-CHEAP-PROFISIONAL DRIVER - COMFORTABLE PICK UP SERVICE FROM THE MEETING POINT. !!
Your private Car Service from schiphol airport to NADIA HOTEL
You are shuttled directly from the arrival lounge into the waiting car.
AIRPORT SHUTTLE BUS
AIRPORT SHUTTLE BUS
Transport from Airport to Hotel Nadia
TIME TABLE DEPARTURE & ARRIVALS.
- EVERY 30 min. TILL 21.00
- ONE WAY EURO 17 & RETURN EURO 27
- DIRECT TRANSPORT BETWEEN THE AIRPORT AND HOTEL NADIA.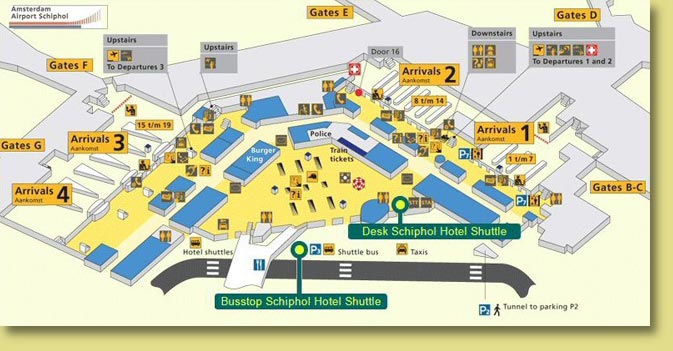 Transport from the airport Schiphol to Amsterdam: NADIA HOTEL
1. By train and taxi
A train station is inside the airport. About 6-7 trains per hour go to Amsterdam Central Station (between 6 am and 11 pm). Between 11 pm and 6 am this is reduced to about 1 train per hour.
For details about the train schedule, please refer to www.ns.nl. (Click on information in English).
Duration: A train ride takes about 15 - 20 minutes, and a single ticket is EURO 3.60 per person /children up to 3 years for free).

2. By taxi
in front of the airport terminal. Cost EURO 40-45./ 20 min.

Advice: the official taxi stand is your best choice. you may be approached by unlicensed taxi drivers offering you a taxi ride. This is an illegal practice, at best ignored.
Be sure you have the correct address with you.
3.By Car from AirPort Schiphol to NADIA HOTEL